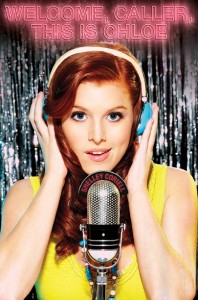 Welcome, Caller, This is Chloe is a fun read. I gobbled it up in one evening. It's a strong, stand-alone novel. Now, usually I'm not a huge fan of realistic fiction, but this book had me hooked from page one.
Chloe is a strong, female protagonist. When her best friend says hurtful things about her, she stands up tall and gets through it. She always has something to say. Usually it's funny, often babble, and sometimes serious. But she's also learning about how to listen, a trait that comes in handy towards the end of the book. The other characters are all very strong in their own ways. Many of them have to put up with problems at home or at school. Although her ex-best friend is set to be the antagonist, you just can't hate her. She has problems of her own that make her a mean person. Many of the characters are very stubborn which makes the reader want to throw the book at the wall.
The author weaved an interesting plot. Always keeping me on the edge of my seat. I definitely enjoyed this book and give it five stars.

Synopsis:
Chloe Camden has a big heart and and even bigger collection of vintage shoes, not to mention a big personality and a primo spot with the in-crowd. But her world careens of its axis when her best friend inexplicably turns the entire school against her. Alone and desperate, Chloe joins her school's struggling radio station, where she must team up with a group of misfits who don't find her to queenly.
Chloe ends up hosting a call-in show that gets the station some much-needed publicity but also trouble, both for the radio station and for radio techie Duncan Moore, a quiet soul with a romantic heart. On and off the air, Chloe must think carefully about whether it's better to talk or to listen.
Title: Welcome, Caller, This is Chloe
Author: Shelley Coriell
Release: May 1, 2012
Publisher: Amulet
Pages: 299