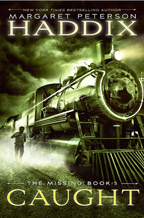 Yes, I know this book is aimed at a younger audience. But I love Margaret Peterson Haddix. I've read a ton of her books, including all the former books in this series. And I started reading this series when I was younger and now need to know how it ends. All of her books are interesting and well-written. This one definitely does not disappoint.
The main character is a boy named Jonah. He grew up thinking he was a normal kid. One day, he finds out that he's a missing child from history. Not just any child though, a famous one. So far, he doesn't know which child he is. My guess is that it's the thing the series is majorly building to that will be revealed in the last book. Anyways, he's a well depicted character. I very much can get into his head and understand him. He's a strong character. He has morals about right and wrong and stand by them. He's not done until the right things have happened and people generally end up happy.
The book is very well-written and has an amazing plot. All the characters are strong. This book has major revelations that are sure to be important for the rest of the series. I like that the author isn't just saving all the revelations for the last book and is instead slowly dispersing throughout the series. I love the book and I love the author. I give the book five stars.
Synopsis:
Jonah and Katherine are at school when time freezes. Everyone, everywhere, in the twenty-first century is frozen in time-except for those who have traveled through time before. Something is catastrophically wrong, but why? And how can they fix it?
Jonah and Katherine end up back in time again, in 1903, where at botched job of returning Albert Einstein's secret daughter Lieserl has somehow critically damaged time itself. Cut off from all communications with other time travelers, they discover a second problem: Albert Einstein's wife, Mileva, knows they're there. And she's determined not to let anyone take away her daughter.
Title:
Caught
Author:
Margaret Peterson Haddix
Release:
September 4, 2012
Publisher:
Scholastic
Pages:
325