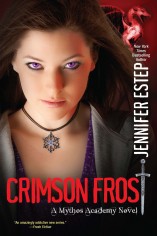 I loved Crimson Frost. I probably read it in less than twenty-four hours, and that's saying something with the amount of work I've been packed down with. This book is the fourth in the Mythos Academy series and I swear, it's the best one yet! The author had me flipping pages faster than a tornado wind. I was on the edge of my seat the entire time I was reading it!
Gwen Frost is the main character. She's a gypsy with the gift of psychometry-being able to touch things and basically know everything that's happened to him/her/it. She also happens to be Nike's champion. Gwen is powerful and strong, but is arrested at the beginning of the book for a crime she didn't commit. Let me tell you, when that happened, my jaw just about dropped on the ground, I was so surprised. But she stays true to herself and does what needs to be done to save herself...and the world.
Crimson Frost was REALLY good! I severely enjoyed the book. The previous books in the series are Touch of Frost, Kiss of Frost, and Dark Frost. The next book, Midnight Frost, comes out in July 2013. It's an amazing series, but I recommend it for older readers. Yeah, definitely older readers. Anyway, I give it a full five star review.
Synopsis:
I should have known that my first official date with Logan Quinn was destined to end in disaster. If we'd gotten into a sword fight, or been ambushed by Reapers, I'd have been more prepared. But getting arrested mid-sip at the local coffee hangout? I didn't see that one coming. I've been accused of purposely helping the Reapers free Loki from his prison-and the person leading the charge against me is Linus Quinn, Logan's dad. The worst part is that pretty much everyone at Mythos Academy thinks I'm guilty. If I'm going to get out of this mess alive, I'll have to do it myself...
Title:
Crimson Frost
Author:
Jennifer Estep
Release:
December 24, 2012
Publisher:
KTEEN Books
Series:
Mythos Academy
Pages:
354