Title:
Origin
Author:
Jennifer L. Armentrout
Publisher:
Entangled Teen
Release:
August 27, 2013
Series:
Lux
Pages:
364
Review:
Five Stars!
Do you know how hard it was to choose a book to review? I've read SO many amazing books recently that is was super hard to choose one. Origin was the one I was most excited for though, so I decided to review it first. Let me tell you, this book was amazing. If you look back at my not to amazing review of the previous book, this one turns it all around. The writing is as amazing as always. The characters begin to heal, only to hurt all over again. There were a few awkward moments, but overall I really liked it.
This story did something different from the previous books in the series. Origin is told from two POV's. The main character Katy and the male protagonist, Daemon. It's nice to finally get inside Daemon's head for long periods of time. Part of the reason I was so annoyed at Daemon in Opal was that I didn't know what he truly meant and why he was so condescending. Origin shed some light on his character and I had loads of fun getting to know him more. Katy develops exponentially in this book. She finally learns what she's fighting for, and the true scope of the situation and hole they've been thrown in. I can't help but love Katy and find her hilarious. Her inner monologue is a never-ending stream of funny mixed with bits of love and seriousness. Katy knows when to be silly and when to get down and dirty. In this, we finally get to meet Beth, the love interest of Dawson who was also kidnapped by the government and who's freedom cost Katy hers. Beth is portrayed as weak and fragile, but a big reveal towards the end of the story tossed my presumptions out the window. This reveal will be a big problem in the final book and I'm excited to see it play out.
The best part of this book? One word. Archer. His character is so awesome, so swoon-worthy, that he gets his own paragraph. Archer is Katy's guard of sorts, and from the page we meet him, I know I like him. His character is obviously hiding something, but that only intrigues the reader more. Archer is mysteriously kind and randomly humorous in a place that have little of both. I was praying that Archer wouldn't become an enemy or bad guy, because I couldn't stand to loose his character. I can't say any more so as not to spoil the surprise, but I'll give you one hint. Archer knows more about the Origin project than he lets on. Here's a fan-made picture of Archer in case you're in doubt.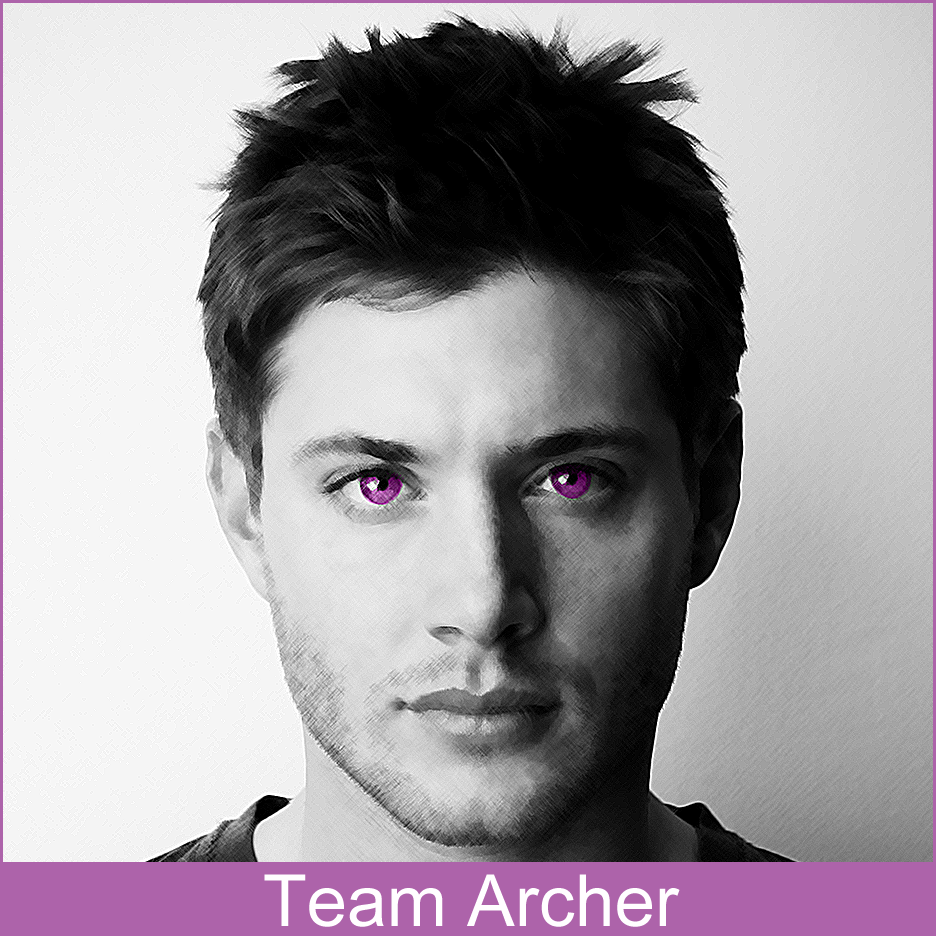 Archer was my favorite character, but my favorite part occurred on pages 260-261. In fact, they're so awesome, I just have to share them with you.
Reading my new name for a third time, I still couldn't believe it. Something about this name was familiar. "Anna Whitt?"
Dee bounced a little. "I picked the names."
Things started to click into place. "What's yours, Daemon?"
He flipped his billfold open and snickered. "Kaidan Rowe. Hmm. That has a nice ring to it."
My mouth dropped open as I twisted toward Dee. "You picked names from a book!"
She giggled. "I thought you'd like that. Besides, Sweet Evil is one of my favorites, and you made me read it, so..."
I couldn't help it. I laughed as I stared down at my picture ID. It was an identical copy of my real driver's license, except it was a different state and address. Underneath it was my actual ID-Katy Swartz-and a few other sheets of folded paper.
Gosh, I missed my books. I wanted to hug the, love them, squeeze them.
"I found that in your bedroom," Dee explained, tapping a finger off it. "I snuck in and got you some clothes and this before we left."
"Thank you," I said sliding my new ID over my old one. Staring at both was going to give me an identity crisis.
"So, wait, my new name is from one of those books?" Daemon frowned. He also had his real ID, but there was a bank card underneath, set to Kaidan's name. "I'm afraid to even ask what it's about. I better not be named after any kind of magician or something lame like that."
"No. It's about angels, demons, and nephilim, and..." I stalled, acutely aware that everyone was staring at me like I'd grown a third eye. "Kaidan's like the embodiment of lust."
If you can't tell why this is my favorite part of the story, it's because two of my favorite series, the Sweet trilogy and the Lux series, were combined into a page and a half of pure awesomeness. I actually got into multiple twitter conversations with both authors. One went something like this.
@Tween2TeenBooks Yeah baby! ;) @JLArmentrout
— Wendy Higgins (@Wendy_Higgins) August 28, 2013
Anyway, I just loved this book. It was so amazing and fun. I cannot get enough of the characters or the story. There are awkward moments that I don't think are needed in the story, but maybe they're building up to something special. Who knows? It's no question that this book receives five stars!
P.S. After finishing Origin, this *might* have also happened on twitter...
@Tween2TeenBooks I want to see this happen. @JLArmentrout @Wendy_Higgins
— Victoria Scott (@VictoriaScottYA) August 29, 2013
And in reply to that...
@Wendy_Higgins @Tween2TeenBooks @JLArmentrout Let's make this happen.
— Victoria Scott (@VictoriaScottYA) August 29, 2013
And this...
@Tween2TeenBooks @VictoriaScottYA @JLArmentrout Now that's just dangerous, right there.
— Wendy Higgins (@Wendy_Higgins) August 28, 2013
Author Bio:
# 1 NEW YORK TIMES and USA TODAY Bestselling author Jennifer lives in Martinsburg, West Virginia. All the rumors you've heard about her state aren't true. When she's not hard at work writing. she spends her time reading, working out, watching really bad zombie movies, pretending to write, and hanging out with her husband and her Jack Russell Loki.
Her dreams of becoming an author started in algebra class, where she spent most of her time writing short stories….which explains her dismal grades in math. Jennifer writes young adult paranormal, science fiction, fantasy, and contemporary romance. She is published with Spencer Hill Press, Entangled Teen and Brazen, Disney/Hyperion and Harlequin Teen. Her book Obsidian has been optioned for a major motion picture.
She also writes adult and New Adult romance under the name J. Lynn. She is published by Entangled Brazen and HarperCollins.
You Can Find Her At:
Synopsis:
Daemon will do anything to get Katy back.
After the successful but disastrous raid on Mount Weather, he's facing the impossible. Katy is gone. Taken. Everything becomes about finding her. Taking out anyone who stands in his way? Done. Burning down the whole world to save her? Gladly. Exposing his alien race to the world? With pleasure.
All Katy can do is survive.
Surrounded by enemies, the only way she can come out of this is to adapt. After all, there are sides of Daedalus that don't seem entirely crazy, but the group's goals are frightening and the truths they speak even more disturbing. Who are the real bad guys? Daedalus? Mankind? Or the Luxen?
Together, they can face anything.
But the most dangerous foe has been there all along, and when the truths are exposed and the lies come crumbling down, which side will Daemon and Katy be standing on?
And will they even be together?