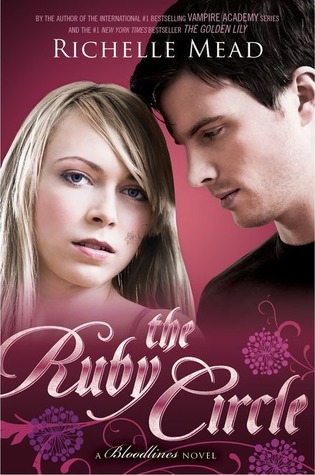 Title:
The Ruby Circle
Author:
Richelle Mead
Publisher:
Razorbill
Release:
February 10, 2015
Series:
Bloodlines
Pages:
348
Review:
5 Stars
Synopsis:
The epic conclusion to Richelle Mead's New York Times bestselling Bloodlines series is finally here...
Sydney Sage is an Alchemist, one of a group of humans who dabble in magic and serve to bridge the worlds of humans and vampires. They protect vampire secrets—and human lives.
After their secret romance is exposed, Sydney and Adrian find themselves facing the wrath of both the Alchemists and the Moroi in this electrifying conclusion to Richelle Mead's New York Times bestselling Bloodlines series. When the life of someone they both love is put on the line, Sydney risks everything to hunt down a deadly former nemesis. Meanwhile, Adrian becomes enmeshed in a puzzle that could hold the key to a shocking secret about spirit magic, a secret that could shake the entire Moroi world.
You Can Find it At:
Goodreads
Website
The Regulator
Barnes & Noble
Audible
Abebooks
Book Depository
Kobo
Indigo
Amazon
Review:
The book started out sorta meh for me, but right before halfway through, I hit something that turned the entire book around. It took me a couple days to really dig into the book, but as soon as I hit that point, I finished it in a couple hours. The series as a whole still isn't nearly as good as vampire academy, but I really did enjoy this book.
Characters
First off, I LOVED seeing more of Rose and Dimitri in this book. They're easily my favorite characters, and I love that they didn't get pushed to the side. Spoilers: I wanted to see when Sydney and Adrian told them they could have kids. Also, I want to see this super-child.
Anyways, you see a lot of character development in this book. Adrian really has to come to terms with spirit and what he's going to do with it. It's really cool comparing this Sydney to the Sydney of book one. She's changed a LOT and really for the better. One of my main problems with a couple of the books in the series was that it was just all sex, all the time, with not much else in between. Richelle really found a better balance in this one, and I liked it a lot more. There was more action without there being no romance. As far as side characters go, we don't see as many of them. Ms. Terwilliger is as sassy as ever, Eddie is still super heroic, and we don't see much Jill, and readers of the series know why.
Writing
There really isn't much to say on the writing. Richelle is definitely a talented writing, but there's nothing super extraordinary about it. That said, generally in books, I'll skim over the longer paragraphs, especially at action points, because they're not important, but Richelle made sure that I read every line so that I didn't miss a thing. Sometimes that meant rereading stuff, but that was okay.
World Building
There wasn't much world-building to do, as she'd eleven books to very thoroughly develop it. There were some things that would majorly change their world, but nothing that was like "oh yeah, and this happens all the time and I forgot to tell you." Richelle kept up with the world she developed, and managed to add to it. Quite effectively I might add. I really want another series in the world of Vampire Academy, and it would be even better if it was from Rose's POV once again. Or at least a short story similar to that of Homecoming.
Author Bio:
Richelle Mead is the author of the international #1 bestselling Vampire Academy series and its spinoff series, Bloodlines. A lifelong reader, Richelle has always had a particular fascination with mythology and folklore. When she can actually tear herself away from books (either reading or writing them), she enjoys bad reality TV, traveling, trying interesting cocktails, and shopping for dresses to wear on tour. She is a self-professed coffee addict, works in her pajamas, and has a passion for all things wacky and humorous. Originally from Michigan, Richelle now lives in Seattle, Washington, where she is hard at work on her next Bloodlines novel. Visit www.RichelleMead.com to find out more.
You Can Find Her At:
Website
Blog
Twitter
Facebook