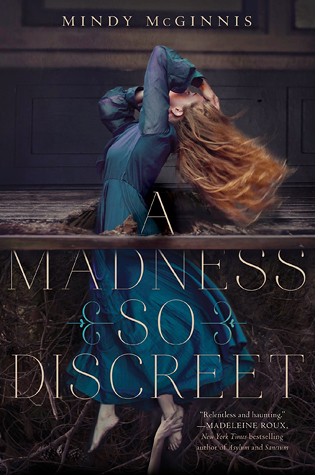 Title:
A Madness So Discreet
Author:
Mindy McGinnis
Publisher:
HarperTeen
Release:
October 6, 2015
Pages:
384
Review:
5 Stars
Synopsis:
Mindy McGinnis, the acclaimed author of Not a Drop to Drink and In a Handful of Dust, combines murder, madness, and mystery in a beautifully twisted gothic historical thriller perfect for fans of novels such as Asylum and The Diviners as well as television's True Detective and American Horror Story.
Grace Mae is already familiar with madness when family secrets and the bulge in her belly send her to an insane asylum—but it is in the darkness that she finds a new lease on life. When a visiting doctor interested in criminal psychology recognizes Grace's brilliant mind beneath her rage, he recruits her as his assistant. Continuing to operate under the cloak of madness at crime scenes allows her to gather clues from bystanders who believe her less than human. Now comfortable in an ethical asylum, Grace finds friends—and hope. But gruesome nights bring Grace and the doctor into the circle of a killer who will bring her shaky sanity and the demons in her past dangerously close to the surface.
You Can Find it At:
First Impressions
While I haven't read Mindy's other books, I've heard wonderful things about them, which already had me excited for this one. The cover, description, or author could have pulled me in, but this book had the perfect combo of all of them. As soon as I heard about the book, I wanted to read it. A Madness So Discreet was a creepy, touching story that I couldn't put down. Also, I was reading this on a class trip that was driving me insane, so this was a nice break from that.
Characters
Grace is immediately interesting to me. I have a slight obsession with insane asylums, and Grace happens to be in one. Grace starts out the story pregnant, which is the reason she's in the asylum, as well as that she refuses to speak. This is a really cool story-telling device, especially considering how smart Grace is. She thinks very intelligently, while refusing to speak or acknowledge it. The more we learn about Grace's family and past, the more I felt sick inside. I honestly don't blame her for going a little 'crazy'. I don't think I'd be as put together as she was if I was in the same situation. There's also the doctor that helps Grace. I very much like this guy, and think he's very helpful to Grace's recovery. A side note: people who don't like romance as much, this book is for you. There isn't any romance.
Writing
The writing was haunting. It's been a while since I read the book, so I can't really say much more, but it was definitely well done, especially for an ARC.
World-Building
The environment of every asylum is different, as shown in this novel. Some were harrowing, awful places, while others were truly dedicated to the health of their inmates. The first asylum in the novel really paints the picture of a place that no one wants to be in. It's basically a prison. The second asylum is more like a nice resort where you're also monitored 24/7. There, the people are caring, and you can actually make friends with the other patients. It was also really cool to see how the park the patients walked in also had people from the surrounding town. The patients were able to interact and heal in a productive way, which was very odd for the time. The world building was really well done though. I could really see the world through Grace's eyes.
Author Bio:
Mindy McGinnis is an assistant YA librarian who lives in Ohio and cans her own food. She graduated from Otterbein University magna cum laude with a BA in English Literature and Religion. Mindy has a pond in her back yard but has never shot anyone, as her morals tend to cloud her vision.
You Can Find Her At:
Website
Twitter
Facebook
Vine
YouTube
Pinterest
Goodreads
Tumblr
Instagram