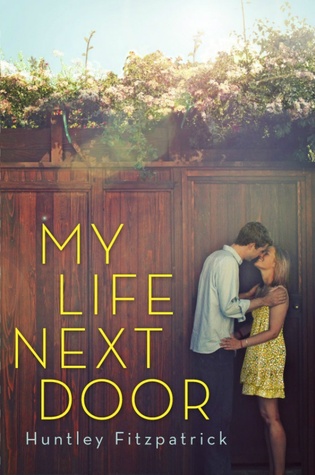 Title:
My Life Next Door
Author:
Huntley Fitzpatrick
Publisher:
Penguin Teen
Release:
June 14, 2012
Pages:
400
Review:
5 Stars
Synopsis:
"One thing my mother never knew, and would disapprove of most of all, was that I watched the Garretts. All the time."
The Garretts are everything the Reeds are not. Loud, numerous, messy, affectionate. And every day from her balcony perch, seventeen-year-old Samantha Reed wishes she was one of them…until one summer evening Jase Garrett climbs her trellis and changes everything. As the two fall fiercely in love and stumble through the awkwardness and awesomeness of first romance, Jase's family makes Samantha one of their own—even as she keeps him a secret from her disapproving mother and critical best friend. Then the unthinkable happens, and the bottom drops out of Samantha's world. She's suddenly faced with an impossible decision. Which perfect family will save her? Or is it time she saved herself?
A debut novel about family, friendship, first romance, and how to be true to one person you love without betraying another.
You Can Find it At:
Tantor Audio
First Impressions
I've been wanting to read this book for a while, but it was never high enough on my wish list to buy, and I'm horrible about reading library books. So when I got the chance to get it at GeekyCon this year, I snatched it up. A few days later, I had a ten hour car ride home. On that car ride, I devoured the entire book. Which is quite a feat, considering I tend to get carsick. Let's just say that it was definitely worth it!
Characters
The characters immediately drew me in. The novel shows a lot of character growth, Samantha especially. She starts off as fairly submissive to her mother, but as she goes through the novel and learns of the world outside of her bubble, she realizes that her mother isn't always right. I dislike books where one character completely changes another one, but that isn't what happened here. When Samantha met Jase, she changed not because he wanted her to, but because she realized there was a different way to live than the life she'd been living.
I also loved the revolving door of Garret children. I could never imagine having that many siblings, I would probably go insane, but each one is special. I can't decide who my favorite Garret sibling is. Could it be Pat, who's first word was 'boob'. Or Alice, the spunky nurse. Or could it be George, the smart, scared of everything child. Add in Duff, Andy, Jase, etc, and the choice just gets harder and harder. Each character is unique, and somehow manages not to blend together. I also love the Garret parents. Their mother especially. She is the kind of mother that any child would be lucky to have.
Writing
Huntley Fitzpatrick's writing is simply put, fun. I don't know what else to say about it. For someone who doesn't like contemporary much, I couldn't put this down.
World-Building
While contemporary typically doesn't require much world-building, but she goes all out. I can really see all of their small town in my head. From Samantha and Jase's houses to the restaurants they like to hang out it. There's practically a town map in my head. Actually, a town map for these books wouldn't be a bad idea...
I seriously loved this book, and as soon as I get around to it, I'm going to review the sequel, The Boy Most Likely To, as well!
Author Bio:
Huntley lives on the coast of Massachusetts with her encouraging husband and their six energetic children who, thankfully, let her pick their brains, advising her on whatever is currently cool and reminding her of what always matters. In between – and sometimes during – the moments of chaos that surround her large family, Huntley can often be seen dashing to her computer or scribbling with whatever writing implements are on hand—lipstick or eyebrow pencil on an ATM receipt is fair game. Thoughts of young love are never far from her mind.
You Can Find Her At:
Website
Twitter
Facebook
Tumblr
Goodreads
Pinterest
Instagram