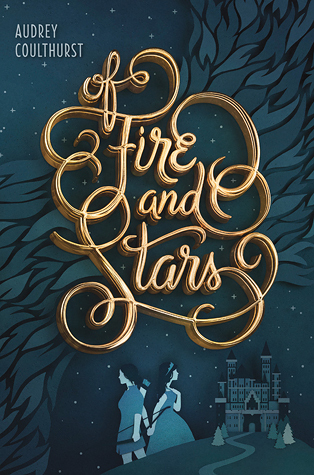 Title:
Of Fire and Stars
Author:
Audrey Coulthurst
Publisher:
Balzer + Bray
Release:
November 22, 2016
Pages:
400
Review:
5 Stars
Synopsis:
Betrothed since childhood to the prince of Mynaria, Princess Dennaleia has always known what her future holds. Her marriage will seal the alliance between Mynaria and her homeland, protecting her people from other hostile lands. But Denna has a secret. She possesses an Affinity for fire—a dangerous gift for the future queen of a kingdom where magic is forbidden.
Now, Denna must learn the ways of her new home while trying to hide her growing magic. To make matters worse, she must learn to ride Mynaria's formidable warhorses before her coronation—and her teacher is the person who intimidates her most, the prickly and unconventional Princess Amaranthine (called Mare), sister of her betrothed.
When a shocking assassination leaves the kingdom reeling, Mare and Denna reluctantly join forces to search for the culprit. As the two work together, each discovers there's more to the other than she thought. Mare is surprised by Denna's intelligence and bravery, while Denna is drawn to Mare's independent streak. Soon their friendship is threatening to blossom into something more.
But with dangerous conflict brewing that makes the alliance more important than ever, acting on their feelings could be deadly. Forced to choose between their duty and their hearts, Mare and Denna must find a way to save their kingdoms—and each other.
You Can Find it At:
Goodreads
IndieBound
Amazon
Barnes & Noble
Book Depository
First Impressions
I picked up the ARC of this, curious what the description. As I read it, I got more and more excited. By the end, I was ecstatic. Lesbian high fantasy, here I come! I didn't end up reading it immediately, but it made the excitement build. I ended up starting it during the drive down to Florida for ALA. I had to put it down partway through (traffic and reading don't mix), but picked it up when we got to where we were staying. I might have read through dinner to finish the book.
Characters
I LOVED Denna and Mare. It was interesting seeing with Denna how she didn't really like where her life was headed, but she was willing to make these sacrifices if it would benefit her kingdom. Also, FIRE POWERS! She's so scared of her abilities, but I love seeing her start to embrace them. As the description says, Mare is definitely prickly, though she has good reason. Her family never treated her with much respect, largely due to her gender. So Mare makes her own path, which ends up crashing her and Denna together. Their romance is a slow burn, but I loved every second of it!
World Building
I love this world so much. One of the biggest things I love is how LGBT characters are portrayed. Being lesbian, gay, or bisexual is not a big deal. It's just a part of their culture. So instead of having to 'come out' or be worried about who they like, people can just fall in love.
Also in this world is magic. In the kingdom Denna comes from, magic isn't illegal, but it isn't fully encouraged either. But in the kingdom where Denna moves, Mynaria, magic of any sort is illegal. This isn't exactly good for Denna, since she has magical abilities. The occurrence of magic also leads to some interested plot points.
I really loved this book. If I could, I would go back in time and read it all over again. Heck, I might just go reread it now!
Author Bio:
Audrey Coulthurst writes YA books that tend to involve magic, horses, and kissing the wrong people. Her debut novel, OF FIRE AND STARS, will be published on November 22, 2016 by Balzer + Bray/HarperCollins. When she's not dreaming up new stories, she can usually be found painting, singing, or on the back of a horse.
Audrey has a Master's in Writing from Portland State University, is a member of SCBWI, and studied with Malinda Lo as a 2013 Lambda Literary Foundation Fellow. She lives in Santa Monica, California.
You Can Find Her At:
Goodreads
Website
Twitter
Facebook
Instagram