How many of you have heard of YallFest? How many are attending? It's a one day book festival in Charleston, South Carolina. For more information, check out the
official website
! Each monday and friday leading up to the festival, I, along with a bunch of other bloggers, will be posting author interviews to help with promotion for the festival. Today, please welcome Lisi Harrison!
Author Interview:
Q. What one thing do you need to have when you write?

A. A scented candle. Each book has it's own scent.

Q. Describe your book in 5 words

A. Popular freshmen's secret journals revealed.

Q. What is the hardest line to write- the first or the last?

A. First. 100%

Q. Best writing tip you ever received?

A. Stop writing in the middle of a chapter instead of the end. It will be easier to start up again the next day.

Q. What one young adult novel do you wish you had when you were a teen? Why?

A. Stargirl.

Q. Tell us 5 random facts about yourself.

A. I can't run.

I have a tattoo with a type-o. It's supposed to say, "creativity" but it says, "dry."

In college I thought it would be cool to get a tattoo written in Chinese characters.

I was supposed to be on one of the planes that crashed into the World Trade Center. I changed my reservation at the last minute. Now every time I look at a clock it says 9:11.

I can't stand being asked about my "favorites." I don't have favorites. If I did I'd forget what they are the minute you asked and would remember them the minute you leave. It's maddening.

I prefer to give 6 random facts.

Q. Where's your favorite place to write?

A. My office.

Q. What are you working on now?

A. Pretenders #2: License To Spill.

Q. What is your favorite genre to write in? To Read?

A. What did I just tell you about "favorites?"

Q. At what point in the development of an idea do you know that it will become a full-length novel?

A. When I can describe it in one sentence. And do it without cringing.
Author Bio:
I wrote The Clique and Best Friends for Never while I was still at MTV just in case my life as an author didn't work out. And in June 2004 I quit my job to write full time, and full time it has been.
In January 2007 I left the harsh winters of New York City in search of the perfect beach town. I found it in Laguna Beach, CA. (No, it had nothing to do with the MTV show even though I have seen every episode.) To date, I have written thirty novels and am currently working on The Phoenix Five and The Dirty Book Club. I spend eight hours a day writing in my office and admiring my ocean view. Only problem is, I never have time to go to the beach. But I can see it. And that, my friends, is progress.
You Can Find Her At:
Books:
Pretenders:
Three girls, two guys, five secret journals.
The five most popular students at Noble High have secrets to hide; secrets they wrote down in their journals. Now one of their own exposes the private entries...
I am leaking these because I'm tired and I know you are too. The success bar is too high and pretending has become the only way to reach it. Instagrams are filtered, Facebook profiles are embellished, photos are shopped, reality TV is scripted, body parts get upgraded like software, and even professional athletes are cheating. The things we believe in aren't real.
We are pretenders.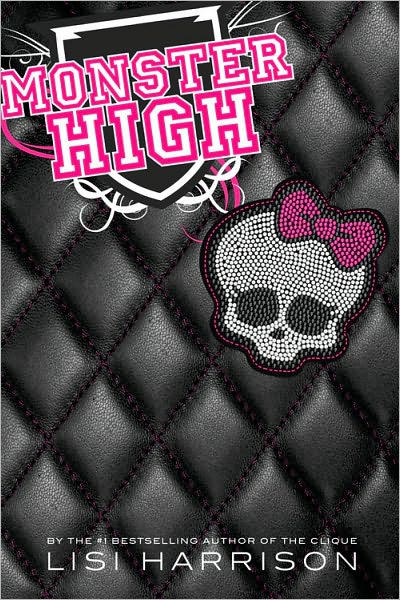 Monster High:
From Lisi Harrison, the New York Times bestselling author of The Clique and Alphas, comes a new series with a fresh twist on high school, romance, and the "horrors" of trying to fit in.
The monster community has kept a low profile at the local high school, but when two new girls enroll, the town will never be the same. Created just fifteen days ago, Frankie Stein is psyched to trade her father's formaldehyde-smelling basement lab for parties and prom.
But with a student body totally freaked out by rumors of monsters stalking the halls, Frankie learns that high school can be rough for a chic freak like her. She thinks she finds a friend in fellow new student Melody Carver-but can a "normie" be trusted with her big secret?
Alphas:
Billionaire business mogul Shira Brazille founded super-exclusive Alpha Academy on exotic Alpha Island to nurture the next generation of exceptional dancers, writers, musicians, and inventors. It's a dream come true for one hundred lucky girls, but at any given time, for any behavior deemed to be more beta than alpha, those who don't measure up will be sent home. The one left standing at the end of the year will win worldwide fame. Every girl thinks she has what it takes, but there can only be one alpha…