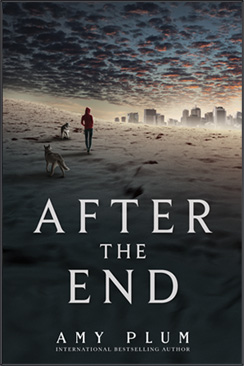 Title:
After the End
Author:
Amy Plum
Publisher:
HarperTeen
Release:
May 6, 2014
Pages:
323
Review:
5 Stars
I got an ARC of this from The Regulator Bookshop.
I... just... GAH! I'm currently sick and am having trouble talking, which means I can't blab on and on about this to my family. Being an ARC, I can type of any spoilers. If you have read After the End, let me know and we will squeal together! I loved Amy Plum's Revenants series, and generally, second books/series don't live up to the first, but oh, this one did! I was a little confused at the beginning, but quickly caught on to the plot! I honestly didn't see where so much of the story was going!
The story is told in dual POV, switching between the male protagonist Miles and the female protagonist Juneau. It's always interesting to see a character who has lived a secluded life suddenly thrust into our world, and it's done beautifully. I love Juneau's character and can really relate to her. One day, she's living her life, and the next she finds out that her entire life has been a lie. That's not easy on a girl. There was definite romance in this book, but it was not insta-love, more like a slow building flame, which I really appreciated.
In many ways, Miles is the sole opposite of Juneau. While she can survive in the wild and is kick butt to the max, Miles is a city boy from Los Angeles whose goal in the story is to please his über rich father. That said, Miles is an interesting character. I really liked seeing in his head, and feel that the story would have been wholly incomplete without it. While Juneau goes from unaware to aware in the story, I feel like Miles goes through much larger of a transformation. You might even go as far as to say that he was turning his life around.
So, I hate cliffhangers in any circumstance, but when the first book ends in a cliffhanger and you get it two months before release, it's really REALLY REALLY REALLY bad. I don't hate cliffhangers in that they're a bad story device, in fact, they're awesome for the book and I write them a bunch, but as a reader, I want to know everything NOW NOW NOW! You really won't see where over half of this book is going, I promise you. I took me a little while to really get into the story, but I read all but the first few chapters this afternoon. The book was definitely a five star read, and I'm dying for book two!
Author Bio: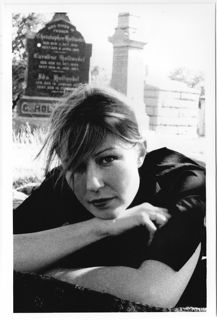 Amy Plum is the author of the DIE FOR ME series, a YA trilogy set in Paris. The first and second book, DIE FOR ME and UNTIL I DIE are international bestsellers, and have been translated into eight different languages. The third book, IF I SHOULD DIE will be released in May 2013.

Amy grew up in Birmingham, Alabama before venturing further afield to Chicago, Paris, London and New York. An art historian by training, she can be found on most days either daydreaming or writing (or both) in a Parisian café.
You Can Find Her At:
Facebook
Twitter
Goodreads
Website
YouTube
Synopsis:
World War III has left the world ravaged by nuclear radiation. A lucky few escaped to the Alaskan wilderness.
They′e survived for the last thirty years by living off the land, being one with nature, and hiding from whoever else might still be out there.
At least, this is what Juneau has been told her entire life.
When Juneau returns from a hunting trip to discover that everyone in her clan has vanished, she sets off to find them. Leaving the boundaries of their land for the very first time, she learns something horrifying: There never was a war. Cities were never destroyed. The world is intact.
Everything was a lie.
Now Juneau is adrift in a modern-day world she never knew existed. But while she's trying to find a way to rescue her friends and family, someone else is looking for her. Someone who knows the extraordinary truth about the secrets of her past.
You Can Find it At: