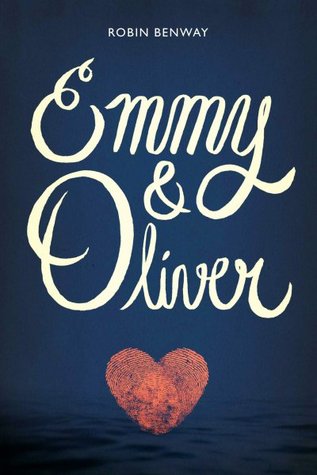 Title:
Emmy & Oliver
Author:
Robin Benway
Publisher:
HarperTeen
Release:
June 23, 2015
Review:
5 Stars
Synopsis:
Emmy's best friend, Oliver, reappears after being kidnapped by his father ten years ago. Emmy hopes to pick up their relationship right where it left off. Are they destined to be together? Or has fate irreparably driven them apart?
Emmy just wants to be in charge of her own life.
She wants to stay out late, surf her favorite beach—go anywhere without her parents' relentless worrying. But Emmy's parents can't seem to let her grow up—not since the day Oliver disappeared.
Oliver needs a moment to figure out his heart.
He'd thought, all these years, that his dad was the good guy. He never knew that it was his father who kidnapped him and kept him on the run. Discovering it, and finding himself returned to his old hometown, all at once, has his heart racing and his thoughts swirling.
Emmy and Oliver were going to be best friends forever, or maybe even more, before their futures were ripped apart. In Emmy's soul, despite the space and time between them, their connection has never been severed. But is their story still written in the stars? Or are their hearts like the pieces of two different puzzles—impossible to fit together?
Readers who love Sarah Dessen will tear through these pages with hearts in throats as Emmy and Oliver struggle to face the messy, confusing consequences of Oliver's father's crime. Full of romance, coming-of-age emotion, and heartache, these two equally compelling characters create an unforgettable story.
You Can Find it At:
Goodreads
The Regulator
Indiebound
Barnes & Noble
Amazon
First Impressions
I got an ARC of Emmy & Oliver from The Regulator Bookshop in February. I saw it and was immediately intrigued. I picked it up once I got home and liked it right off the bat. Emmy & Oliver is unlike other books I've read. It deals with things that YA books often don't and manages to be happy despite hard situations.
Characters
Emmy is awesome. That said, I have a feeling things would be a tad easier if she just told her parents things. Her parents practically wrap her in bubblewrap, which is horrible, but I think they would start treating her more like and adult if she showed them that she was. I still want to slap her parents a couple times though.
I really like Oliver too. He's complex and has issues without being whiny. Oliver was kidnapped by his dad as a kid, and hadn't even realized it. He comes back at the beginning of the story and it's obviously a rough transition. Still, he manages to come back into the fold and figure out life. Also, Emmy and Oliver are the cutest ever.
Writing
I've tried to read a couple other Robin Benway books and haven't been able to really get into them, but this sucked me in immediately. Emmy & Oliver is a face paced book that is both fun and mysterious!
World-Building
The book takes place in California, a place I love to read books in. It's interesting seeing their world develop and take shape as Emmy and Oliver figure out their places in life. Emmy has been fairly comfortable in her place, but with graduation coming, as well as Oliver coming back, she's forced to change her views, and thus change her world.
Author Bio:
I'm the author of "Audrey, Wait!", "The Extraordinary Secrets of April, May & June", and the AKA series. My latest book "Emmy & Oliver" will be released in Summer 2015. I live in Los Angeles with my extremely stubborn shih tzu, Hudson. I like cooking, puppies, and coffee, but not in that order. We should be friends.
You Can Find Her At:
Website
Twitter
Instagram
Facebook
Tumblr