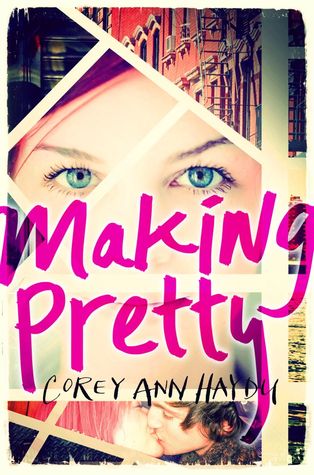 Interview:
1. Do you see yourself as more similar to Montana or Arizona?
I see myself as closer to Montana. I certainly understand the desire of wanting to belong to someone and wanting to better understand your place in the world. I'm also a New York City girl, a girl who loves city on stoops, have struggled to accept myself the way that I am. I like the Montana fights to try to love herself, even when she finds it challenging. She wants to be comfortable in her skin, but she isn't always. There's so often a space between the person we want to be, and the person that we actually are.
Plus-- I'm about to dye my hair pink, so I'll be even more like Montana!
2. How would you describe your book in five words?
Romantic, gritty search for identity.
3. If you could steal one characteristic from your characters and give it to yourself, what would it be and why?
I like Montana's bravery. She finds herself (and puts herself!) in so many uncomfortable situations, and she embraces the discomfort and the fear. She doesn't let fear hold her back. I like that she pushes herself and finds new sides of herself because of that push.
4. Of your three books, which is your favorite?
I don't know that I could pick! I will say that OCD Love Story is my favorite because the reader responses are so powerful and meaningful; Life By Committee is my favorite because Tabitha is the character who is most like me in high school, and her story was the most personal; and Making Pretty is my favorite because I loved writing a story set in New York City. and when I read it during copyedits I didn't even recognize it as my own, which was a sort of wonderful and new feeling.
I cheated, sorry!
5. What's your favorite part of the writing process?
I like revising, because it's the biggest challenge. I love how I have to find new ways to tackle the material, and how every book requires something so different from the revision process. It's often a really exciting time where I realize new and exciting angles to the story.
6. When did you know that you wanted to be a writer of YA fiction?
I didn't know much about YA fiction until I started working for a literary agency that specialized in YA literature. My boss at the time handed me a pile of books to read and get acquainted with the genre. I fell in love immediately and realized how eclectic and interesting YA literature could be. I felt like it had more creativity than so much of the adult literature I was reading did. It was such an exciting time, falling in love with this thing I didn't know existed and realizing it was what I wanted to do with my life.
7. Do you have any favorites quotes? (From books, movies, poems, etc)
Yes! My favorite quote is from Sylvia Plath's poem, Elm. "I know the bottom, she says. I know it with my great tap root:/It is what you fear/I do not fear it: I have been there."
I get weepy even writing it out!
8. What's a book that you're looking forward to that comes out soon?
In 2015 I'm still looking forward to Julie Murphy's DUMPLIN'. I love the cover and I'm a fan of Julie's work. I'm also looking forward to SKYSCRAPING by Cordelia Jensen, which sounds really wonderful and is in verse, which I love.
In 2016, HOUR OF THE BEES by Lindsay Eager sounds really wonderful and was pitched as Holes meets The House on Mango Street, both of which I love.
9. What makes up the ideal book you'd want to read?
My number one interest these days is uniqueness. I don't want to read something that reminds me of other books. I like books that are very dark, have excellent, emotional writing, and feel strange and new to me. I want imperfect, complicated characters and relationships and surprising moments and sentences.
10. Any advice for aspiring writers?
Fall in love with your work. Stay connected to the joy of it. It's easy to get lost in the hard work and the business and the wanting to finish a certain number of words in a certain amount of time. But what really works, what really comes through, is joy. Stay connected to the joy of writing.
Synopsis:

Montana and her sister, Arizona, are named after the mountainous states their mother left them for. But Montana is a New York City girl through and through, and as the city heats up, she's stepping into the most intense summer of her life.

With Arizona wrapped up in her college world and their father distracted by yet another divorce, Montana's been immersing herself in an intoxicating new friendship with a girl from her acting class. Karissa is bold, imperfectly beautiful, and unafraid of being vulnerable. She's everything Montana would like to become. But the friendship with Karissa is driving a wedge between Montana and her sister, and the more of her own secrets Karissa reveals, the more Montana has to wonder if Karissa's someone she can really trust.

In the midst of her uncertainty, Montana finds a heady distraction in Bernardo. He's serious and spontaneous, and he looks at Montana in the way she wants to be seen. For the first time, Montana understands how you can become both lost and found in somebody else. But when that love becomes everything, where does it leave the rest of her imperfect life?
You Can Find it At:
Author Bio:


Corey Ann Haydu is the author of OCD LOVE STORY, LIFE BY COMMITTEE, MAKING PRETTY and her upcoming middle grade debut, RULES FOR STEALING STARS. A graduate of NYU's Tisch School of the Arts and The New School's Writing for Children MFA program, Corey has been working in children's publishing since 2009.
In 2013, Corey was chosen as one of Publisher Weekly's Flying Starts. Her books have been Junior Library Guild Selections, Indie Next Selections, and BCCB Blue Ribbon Selections. Corey also teaches YA Novel Writing with Mediabistro and is adapting her debut novel, OCD LOVE STORY into a high school play, which will have its first run in Fall 2015. Corey lives in Brooklyn with her dog, her boyfriend, and a wide selection of cheese.
You Can Find Her At:
Website
Giveaway:
a Rafflecopter giveaway