This is gonna be a fairly short post. I have had the opportunity to give away an ARC of Salt & Stone by the wonderful Victoria Scott! And while you're here, make sure to check out
my review
of Victoria's debut novel, The Collector!
Synopsis: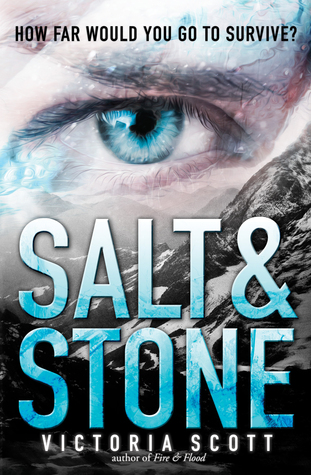 How far would you go to survive?
In FIRE & FLOOD, Tella Holloway faced a dangerous trek through the jungle and a terrifying march across the desert, all to remain a Contender in the Brimstone Bleed for a chance at obtaining the Cure for her brother. She can't stop – and in SALT & STONE, Tella will have to face the unseen dangers of the ocean, the breathless cold of a mountain, and twisted new rules in the race.
But what if the danger is deeper than that? How do you know who to trust when everyone's keeping secrets? What do you do when the person you'd relied on most suddenly isn't there for support? How do you weigh one life against another?
The race is coming to an end, and Tella is running out of time, resources, and strength. At the beginning of the race there were one hundred twenty-two Contenders. As Tella and her remaining friends start the fourth and final part of the race, just forty-one are left . . . and only one can win.
You Can Find it At:
Amazon
Author Bio:
Victoria Scott is a teen fiction writer represented by Sara Crowe of the Harvey-Klinger Literary Agency. She's the author of the FIRE & FLOOD series published by Scholastic, and the DANTE WALKER trilogy published by Entangled Teen. Her first stand-alone young adult title, TITANS, will be published by Scholastic in spring 2016.
Victoria's newest release, SALT & STONE, received a starred review by Kirkus Reviews, and the first book in the series, FIRE & FLOOD, has been nominated as a YALSA Teens' Top 10 book for 2015. Victoria's novels have been bought and translated in eleven foreign markets. She currently lives in Dallas, and hearts cotton candy something fierce.
You Can Find Her At:
Blog
Giveaway:
a Rafflecopter giveaway