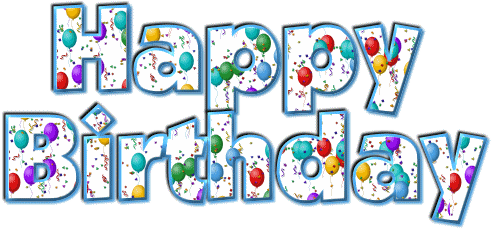 It's that time of year again! This totally snuck up on me! I can't believe I've been blogging for THREE whole years. It's amazing!
I wouldn't have started this blog if it weren't for my dad. He knows how much I love to read, and so one day, in mid-August, he helped me set up a blog. I had a basic theme and some crappy reviews, but I was off. When I started, I had no idea where I'd be now. For one, I didn't know what ARCs were when I started.
Now, I'm reviewing books months before they come out (though I am pretty slow about it). I get to join awesome Street Teams and blog tours. Heck, I've gotten to meet SO MANY authors. I've gone to three book conferences (LeakyCon, GeekyCon, and UtopYA Con). I've met a ton of awesome bloggers (Nori, Sheriden, Nova, and Nikki to name a few). I've gotten involved with multiple local indies, starting book clubs, joining book clubs, and attending events! I've run giveaways, gotten swag, and so much more. This experience really is amazing.
But you don't want to hear me ramble. So, for you today, I have an interview with Christina Benjamin, author of The Geneva Project! I actually met Christina at UtopYA Con and can attest to the fact that she is amazing.
Once you've read the interview and description, and are thoroughly intrigued, you can go
here
and download the first eight chapters!
Interview:
1. What helped to inspire the Geneva Project series?

I loved reading YA fantasy and was totally addicted to Harry Potter, Twilight and Hunger Games. It happened that I finished all the books in those series during the same year and I was thoroughly depressed without the characters and worlds I'd spent so much time in, so that's what drove me to write my own series. I thought that way the characters and worlds would belong to me and wouldn't have to end. I had no idea that I was going to share the book I wrote with the world. It really just started as something fun for me to do.

2. Would you like to go to a tropical island like Hullabee (without the crazy people of course) or stay at home with a book?
Yes! Absolutely. To me, Hullabee Island is a mix of Santorini, Greece and Hawaii. Somewhere with white sand beaches, cliffs, rainforests and volcanoes. I love that the island is full of mythical creatures and legends too. It's fun to let your imagination run while when you explore new places. Check out my pinterest page where I've pinned photos of places that inspired scenery for Hullabee Island.
https://www.pinterest.com/AuthorCBenjamin/
3. Any advice to young and aspiring writers?

Start now and never give up. Also, don't be too critical of your work. The important thing is to get the words down. And write what you love. Don't write what you think others want to hear. I find the words flow better when the inspiration comes from your heart. (or your crazy dreams, lol) Or both in my case.

4. For fans of the book, what are some similar books that you'd recommend?

Harry Potter – because of the magic, friendship and coming-of-age
Percy Jackson – for the Myths & Legends
Hunger Games & Divergent – for the female heroine/dystopian fantasy

5. Are any of the characters inspired by people in your life?

The animal characters are! I have a dog named Vin that inspired the marmouse Niv. And two cats named Hank and Ari that inspired the tarcats, Khan and Ria. I love using anagrams when naming things that have special meaning to me. My animals are so sweet and always sit with my while I write so I thought I should give them some love by writing them into the books.
Synopsis:
Trapped on a flood-ravaged island full of orphans, natives and wealthy citizens of the prosperous city Lux, a young girl named Geneva finds herself enslaved at an orphanage with no future and a past she can't remember. That all changes when she meets someone who promises her that there's more in store for her than she ever could have imagined. Her once dull life rapidly spirals out of control as she starts to acquire new magical powers that may be the key to unlocking an ancient legend along with her true identity. But first she must master these powers, all while trying to keep them secret from her friends and the evil head mistress at the orphanage. Before she knows it, Geneva is in over her head and has inadvertently wrapped her friends into her web of magic and lies. Now all of their lives will be in jeopardy once the head mistress of the orphanage finds out Geneva's plan to prove that the legend of Lux may not be a legend at all!
Who will Geneva trust and how far will she go to save her friends and discover her true identity?
You Can Find it At:
Author Bio:
Young adult book author Christina Benjamin grew up in the small town of La Plume, Pennsylvania, where at an early age her playful imagination led her to love the art of storytelling. She started writing short stories in grade school and continued practicing her craft all the way through college, attending the University of Central Florida to complete her Bachelor of Arts degree in Technical Writing.
After spending some time writing for blogs and websites, she was inspired to get back to her true love of telling stories, and dove headfirst into The Geneva Project, her first novel.
Christina now lives in Central Florida with her husband, son, dog and cats and spends her free time writing the second book of The Geneva Project series.
You Can Find Her At:
But wait, there's more! I have multiple giveaways for you (and might add another soon, so check back!)
Giveaway:
First, we have the UtopYA Con prize pack! All of these prizes will go to one lucky, US winner! And an eBook of The Geneva Project: Truth by Christina Benjamin will go to another winner!
a Rafflecopter giveaway
Contemporary Giveaway! Here, you can choose one contemporary book out of this selection, and will also get a ton of swag! I couldn't find a Twitter account for Leslie Connor, sorry!
a Rafflecopter giveaway
I'm only gonna do these for now, but check back in tomorrow/later this week, I might add in more giveaways!
Thank you so much for stopping by my little corner of the internet! You have no idea how much this means to me that you take time out of your day to read my posts, etc. Keep an eye out for a survey soon as well! You might even win a prize! *tackle hugs everyone*