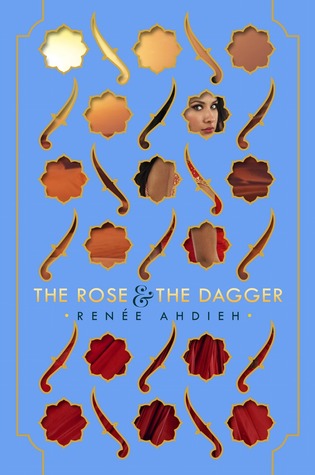 Title:
The Rose and the Dagger
Author:
Renée Ahdieh
Publisher:
Putnam
Release:
April 26, 2016
Series:
The Wrath and the Dawn
Pages:
432
Review:
5 Stars
Synopsis:
The much anticipated sequel to the breathtaking The Wrath and the Dawn, lauded by Publishers Weekly as "a potent page-turner of intrigue and romance."
I am surrounded on all sides by a desert. A guest, in a prison of sand and sun. My family is here. And I do not know whom I can trust.
In a land on the brink of war, Shahrzad has been torn from the love of her husband Khalid, the Caliph of Khorasan. She once believed him a monster, but his secrets revealed a man tormented by guilt and a powerful curse—one that might keep them apart forever. Reunited with her family, who have taken refuge with enemies of Khalid, and Tariq, her childhood sweetheart, she should be happy. But Tariq now commands forces set on destroying Khalid's empire. Shahrzad is almost a prisoner caught between loyalties to people she loves. But she refuses to be a pawn and devises a plan.
While her father, Jahandar, continues to play with magical forces he doesn't yet understand, Shahrzad tries to uncover powers that may lie dormant within her. With the help of a tattered old carpet and a tempestuous but sage young man, Shahrzad will attempt to break the curse and reunite with her one true love.
First Impressions
I was super excited to read this book. As you can see from my review of The Wrath and the Dawn, the series became a surprise favorite of mine. When I had the chance to get an ARC of The Rose and the Dagger, I jumped on it. And let me tell you, it had ALL THE SWOONS!
Characters
I love Shazi SO MUCH! In the first book, she's fueled by rage, but now she's fueled by love. But at the same time, she doesn't get all weepy because she's not with Khalid. Shazi takes her and Khalid's fates into her own hands and gets. Crap. Done. No matter what anyone else tells her. She has a lot of people that care about her, but none of them really know what to do with her.
My love for Khalid only grew with this book. If Kaiden Rowe hadn't stolen the title of Love of My Life, Khalid might just have a chance at taking it. You can really see how good Shazi's love has been for him.
Writing
Ahdieh's writing is amazing. It has this lyrical quality that many might find annoying, but just works. That is shown by the legion of fans that the author already has. I'm gonna be amazed if The Rose and the Dagger isn't an immediate bestseller.
World-Building
You'd think Renée would have done all the world building she needed to do in The Wrath and the Dawn, but you'd be wrong. The world expands a ton in this book. While it was already a vast world, we only saw a small part of it. In The Rose and the Dagger, the characters go to far-flung places and their adventures intensify. I can't wait to hear your thoughts!
Author Bio:
I live in North Carolina (Go Heels!) with my husband Victor and our dog Mushu. My YA fantasy novel, THE WRATH AND THE DAWN, is available wherever books are sold. Its sequel, THE ROSE AND THE DAGGER, will be published on April 26, 2016. In my spare time, I like to cook, dance salsa, and wreak havoc on the lives of my characters.
I'm also a member of the Society of Children's Book Writers and Illustrators, as well as an active member of the Science Fiction & Fantasy Writers of America.
You Can Find Her At:
Twitter
Tumblr
Instagram
Facebook