Welcome to my stop on the blog tour! Read on for a review and interview with the author!
Series: The Lily Sparrow Chronicles
Pages: 367 pages
Release: March 17th 2014
Characters: Lily, her mother, her father (the Tub Man),
I really enjoyed these characters. They are all so funny. Especially Lily. She thinks in mathematical terms, which makes for a VERY funny story. 1 funny girl + 1 funny family = loads of fun!
First Impressions:
I got this book in the mail back in July. I expected it to be okay, but it far surpassed my expectations. I picked it up and couldn't stop! I was laughing out loud the entire time!
Writing: 5/5 The writing is very original. I love the math talk, which I haven't seen before.
Plot: 5/5 Oh, this book was fun! Constantly moving from one insane thing to the next, I wish it hadn't stopped!
World Building: 5/5 The world building was beautiful. The author managed to create an entire fairy tale land out of other fairy tales. In the land, everyone has to be happy. It reminds me of Dorothy Must Die where Dorothy makes everyone smile.
Characters: 5/5 As I said before, the characters rock. Crazy things happen to them, and they brush it off like it's nothing.
This book was SO much fun! I honestly loved every minute of it. The romance was fleeting, but promised more. I can't wait for the next book!
Interview:
1. What helped inspire this unusual fairy tale story?
On my recommendation, my sister stayed up all night reading Ella Enchanted by Gail Carson Levine. (I recommended that she read it, not that she stay up all night.) The next morning, at breakfast she said, "You should write a book like that. Something with Cinderella." My sister loves Cinderella.
So the idea of a Cinderella book was turning around in my head.
A few weeks after that, my college roommate confused two really well-known fairy tales in a casual conversation. My roommate also happened to be a math major.
Then the story stared clicking. What if someone who was clueless about fairy tales and loved order and logic found herself the future ruler of a magical (illogical) fairy tale kingdom?
2. When writing, do you like to listen to music?
Not really. I used to. When I was single and wrote all day, I would rotate through a huge stack of CDs during a writing week. But now, I typically write early in the morning while my family is still sleeping so I try to be quiet. If I do listen to music, I use Pandora and listen to either the Disney or the Praise and Worship station. If I'm writing or editing during the main part of the day, there is a lot going on, so music is something I turn off, so I can more readily be there for all the "Mama! Look at this!" moments.
3. What's your favorite fairy tale?
I really like Beauty and the Beast the best because they actually spend time together and fall in love before getting married. I like that Beauty was willing to give up her life and her freedom for her father and I like that (in the original text) the Beast finds out about her character before she comes. He makes sure she is brave and willing to come. It's a good message. You should find out what kind of character your potential mate has.
4. Favorite fairy tale character?
My favorite character might be Clever Manka. She uses her wits to help her father, which leads to her marriage. Then she uses them again to save her marriage. But every time she does so, she is careful not to be boastful or proud of her quick mind. This tale has a sweet ending, and also good advice about marriage.
5. If fairy tales were real, which would you NOT want to live in?
This is a fun question! I would probably not want to live in most of Hans Christian Anderson's worlds. The majority of his tales end sadly—like The Little Mermaid. She doesn't get to marry the prince. She turns into sea foam instead. He also has some bizarre tales, like The Red Shoes, in which disembodied feet dance around in red shoes harassing the heroine.
6. Any advice to aspiring authors?
Read! Read whatever it is you want to write. And make sure you write every day, or at least on most days. Writers write. Other people talk about writing someday, but if you want to be a writer—write!
Fairy tales are naturally non-mathematical. That is a fact, and fifteen-year-old Lily Sparrow loves factual, mathematical logic. So when her mother confesses that Lilyís deceased father is (a) not dead, (b) coming to dinner, and (c) the ruler of a fairy tale kingdom accessible through the upstairs bathtub, Lily clings to her math to help her make sense of this new double life (1 life in the real world + 1 secret life in the fairy tale world = a double life).

Even though itís not mathematical, Lily finds herself being pulled into a mystery involving an unhappy Cinderella, a greasy sycophant called Levi, and a slew of vanishing fairy tale characters. Racing against the clock, with a sound mathematical plan, Lily attempts to save her fairy tale friends while proving that normality = happiness.

You Can Find Her At:
Amazon
Author Bio: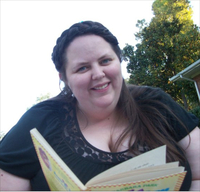 Kristee Ravan lives in Oklahoma with her husband, daughter, and pet fish, Val (short for Valentine). She wanted to be many things as she grew up including a general, an artist, and an architect. But she never bothered to say, "I want to be a writer when I grow up." She was always writing stories and thought of herself as a writer anyway. She sent her first story to a publisher in the sixth grade. (It was rejected - in a nice way.) When she is not making up stories in her head, she enjoys reading, juggling, green smoothies, playing dollhouse with her daughter, and hearing from her fans. You can contact Kristee at the facebook page for her Lily Sparrow books: The Lily Sparrow Chronicles.
You Can Find Her At:
Website
Amazon
Giveaway:
5 copies of The Cinderella Theorem (print for US winners, ebook for international winners)
a Rafflecopter giveaway
Tour Stops:
11 -
Launch
12
Kelly P's Blog
Coffee Books & Art
13
Bookworm Lisa
Shannon's Blog
Simplistic Reviews
14
Skye Malone's Blog
Wonderous Reviews
Mythical Books
15
Rockin' Book Reviews
Sarah's StoryLines
The Wonderings of One Person
17
Katy's Krazy Books
Letters from Annie (Douglass) Lima
18
The Crazy Antics of My Creative Mind
My Devotional Thoughts
The Written Adventure
19
Tween 2 Teen Book Reviews
Mel's Shelves
My Life, Loves and Passion
20
Katie's Clean Book Collection
Book Briefs
Deal Sharing Aunt
21
A Backwards Story
Little Lisa
22
Coffee, Books and Me
I Am A Reader
Dividing by Zero
24 - Grand Finale
Calling for Reviewers!
We're looking for reviewers! You don't need a blog to sign up, but you do need to at least post a review on Amazon. Other sites (blog, Goodreads, etc.) are also appreciated. Reviews must be completed by the end of November. To sign up, please fill out
this form
.